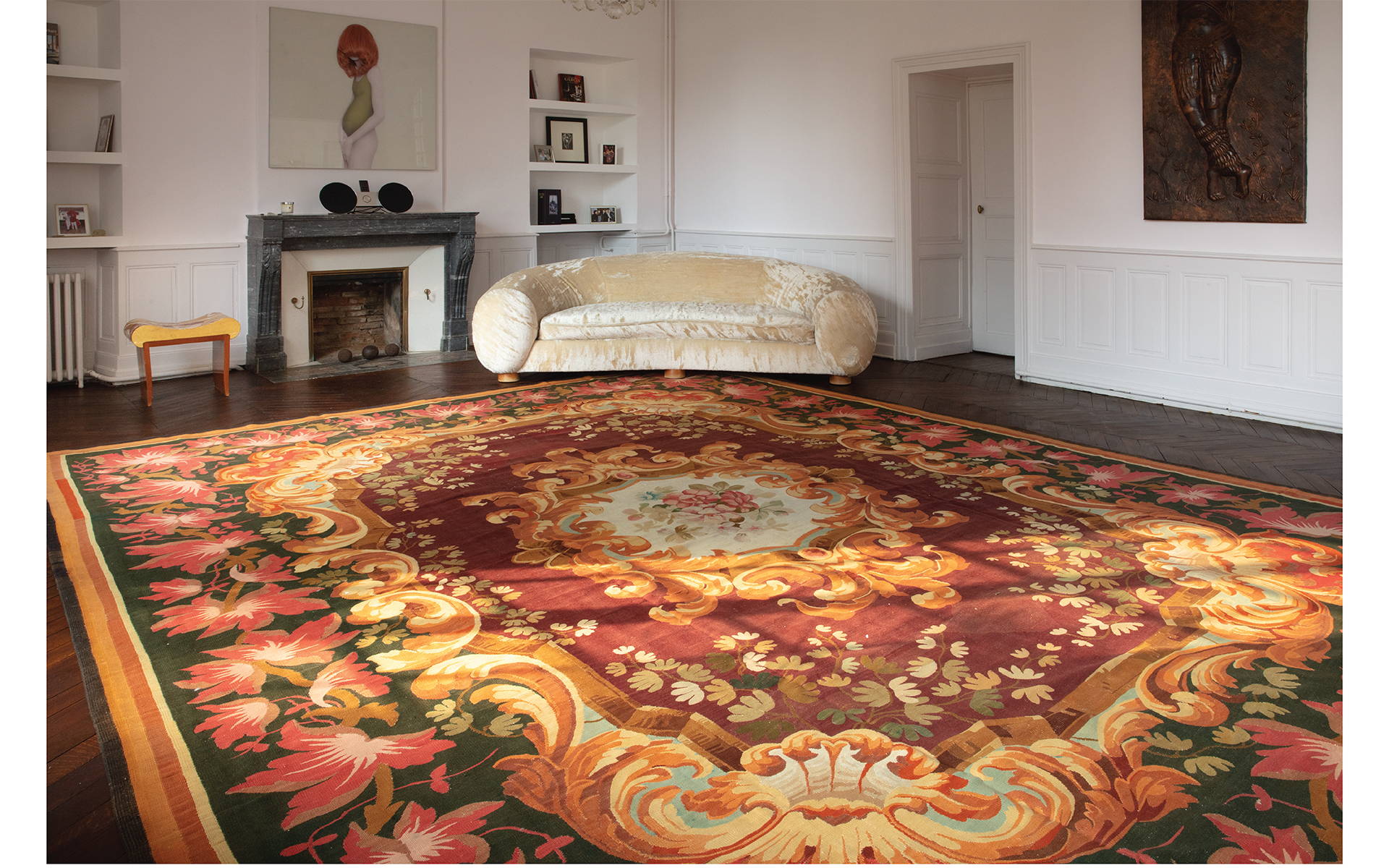 ---
SAVONNERIE
The Savonnerie rugs played an important role in the prestigious French furniture's History. Louis XIII developed the Savonnerie manufactory by positioning the workshops along the banks of the Seine at the foot of the hill of Chaillot, in the buildings of a former soap factory –hence the name "Savonnerie"– that has since made carpet according to the knotted carpet technique. During the XVIIth century Colbert reorganized the Savonnerie by placing it, like at the Gobelins, under the artistic direction of Charles Le Brun. Therefore, it has known an extraordinary period of activity during which its production, exclusively reserved for the king, was used for creating diplomatic gifts or furnishing royal residences.
The Boccara Gallery has an important collection of French antique rugs from the XVIIIth to the XXth centuries. This prestigious collection was formed over the years by Didier Marien. It reflects a precious history and a lifestyle where refinement is combined with an unparalleled attention to details. All these rugs are in perfect condition and come mostly from private collections. The French Savonnerie and Aubusson rugs in bring a unique touch to decorations and reflect a taste that marked the eighteenth century.
AUBUSSON
Boccara Gallery has an important collection of Aubusson rugs from the XVIIIth to the XXth centuries. The style developed in Aubusson is recognized today as one of the most influential of the European rug and tapestries History. Workshops to produce Aubusson flat-woven rugs were established under the royal warrant in 1743 to manufacture pile carpets primarily for the nobility.
Many weavers who settled in France were Huguenots who had fled Spain during the Inquisition in the early sixteenth century. By issuing the edict of Nantes, Henry IV granted all non-Catholics freedom of worship, thereby protecting the carpet weavers in Aubusson. Aubusson weavers became the finest craftsmen in the world. Louis XIV's influential Prime Minister Colbert established the long and hard apprenticeship necessary to obtain the title "Master of Tapestry". Even today, the center in Aubusson, under control of the French Ministry of Arts, is busily producing carpets and rugs of the most exquisite quality. Aubusson rugs and carpets are considered to be among the finest examples of carpet production undertaken in Europe over the past 350 years.
---